Shopping online is with no doubt very convenient and saves a lot of time. But getting the right size and fit can give you a little trouble when you don't know how to take your measurements properly. Most of the time, you should not rely on your usual size when choosing your Bridal Dress. Different brands have different size charts, and if you are a 10 with one designer it means you can be a 14 with another. That's why it is vital to know not only your size but your proper measurements.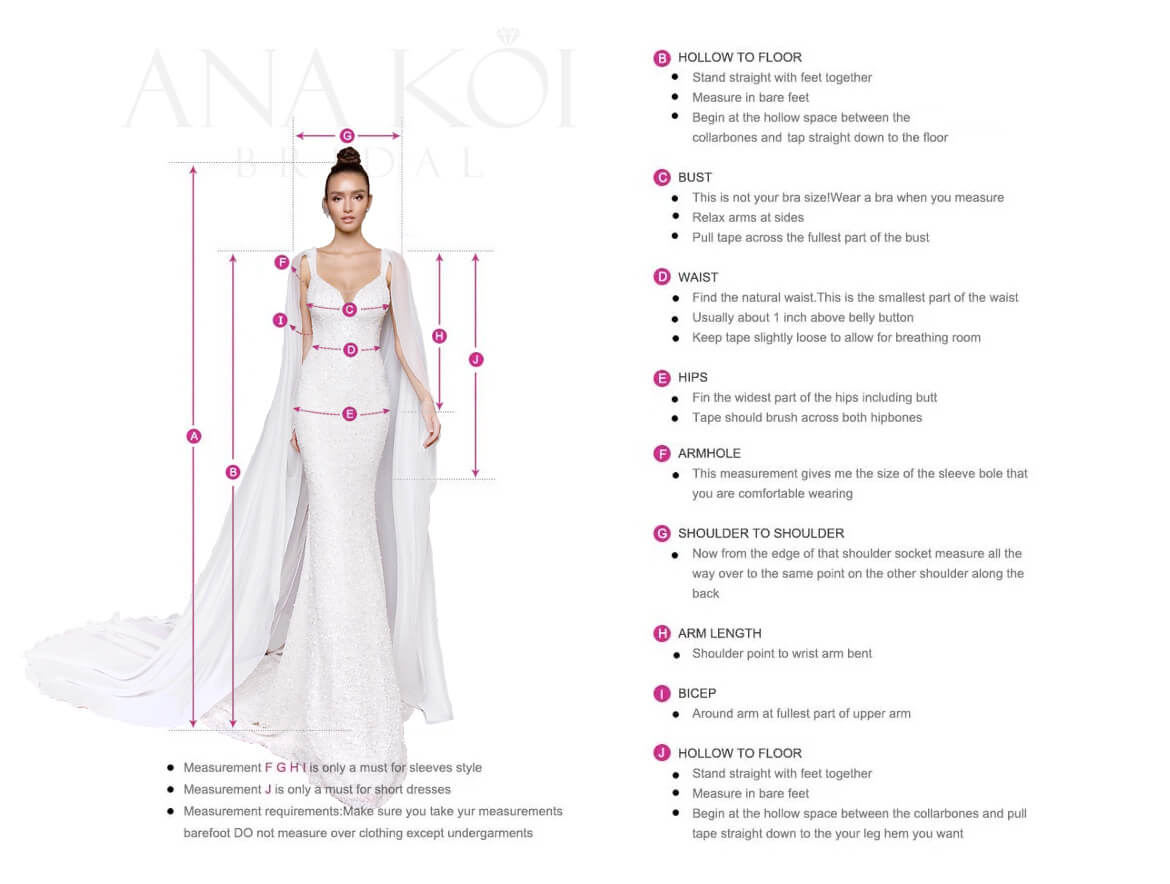 The most important thing is to take off any of your clothing, and be only in your underwear. It will make it easier for you, if someone can help you when taking the measurements, so you can relax your body. Make sure you stand straight, without lowering your head. Keep your usual posture, keep your arms down, freely along the body. Make sure the measuring tape is fit comfortable to the body, not too tight. Always double check your measurements to make sure you have them accurate.
If the dress is entirely fitted, you have to consider everything: bust, waist and hips. If your dress is A-line or ball gown, the most important is to take the measurements of your bust and waist. When ordering a custom dress, it is also important to know how to take your hollow to hem measured. Remember: even your bra or nylon tights can add volume, so make sure you wear nothing but the underwear you are going to be in on your Wedding day. Put the tape around the area tight enough just to stay in position.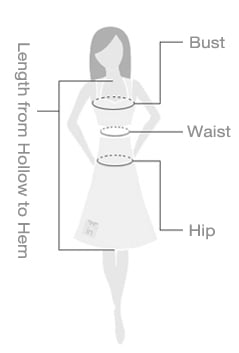 Bust
Pass the measuring tape around your back and up to the front, at the level of the fullest part of your bust. Keep the tape leveled in a straight line and don't make it too tight, you should be able to fit a finger between the tape and your body. Don't hold your breath, simply relax and breath normally.
Waist
The waist is not around your belly button or across your hipbones, it is the smallest part of your torso. Just like you did with your bust, pass the measuring tape along your waist. Don't make it too tight, breath normally and remember to fit a finger between the tape and your waist. It's the best to hold the measuring tape the way you want the dress to fit.
Hip
Stand straight and pull the tape across the widest part of the hips and fullest part of your bottom. Again, don't make it too tight, you should be able to fit a finger in order to be comfortable to sit in the dress of your wedding day.
Hollow to Hem
This is mostly needed when you order a custom dress. The hollow to hem is determined by measuring from the center of your collarbone (hollow) to the bottom (hem). It is very important to wear your bridal shoes or shoes that will have the same height so you get proper measurements. We highly suggest to ask your consultant or email us when you do your Hollow to Hem measurements, it can be tricky sometimes.
If you have any questions on what size to order, make sure you email us, and our representatives will get back to you. Our email is anakoibridal@gmail.com and phone number +1 (647) 647-267-7857